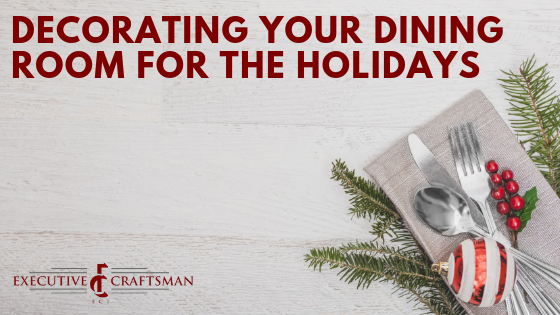 Decorating Your Dining Room for the Holidays​
It's the time of year to spread some holiday cheer! Decorating for the holidays can seem daunting at first, but don't worry. Our Executive Craftsman team has just the right tips and tricks for decorating your ideal holiday dining room. Consider centerpieces The Dining Room is where friends and family gather and celebrate during the holiday season. Conversations are held, meals are enjoyed, and memories are made. So why not make sure your centerpieces are just as joyous? You can incorporate a variety of different centerpieces to make your dining room look perfect for your guests. Try tying together a pretty pile of presents with a red ribbon. This will get everyone excited to open up gifts – it's a great addition! Or what about an elegant glow? Mix and match different candlesticks in the middle of the table to enjoy a festive candlelit meal. Whatever you choose to put at the center of your dining room table, be sure that it isn't too big or bulky. No one wants to have a conversation with a giant snowflake in front of their face. Create your holiday color palette If you're unsure what to do when it comes to decorating your dining room table for the holidays, stick to this simple holiday color palette: red, gold and green. These classic holiday colors will bring cheer to any room! Dress it up When in doubt, dress it up! Take a regular chair for instance. Simply tie a ribbon around the chair and turn it into a seat fit for a King or Queen! Or invest in some fancy napkin holders to add just the right touch to your place setting. Give it a theme Want to go the extra mile? Give your dining room a unique theme! Create a winter wonderland following a light blue and silver color palette. You can incorporate fake snow and icicles at the center of the table to make it even better. Or if you have wood floors you can go for a more rustic, cozy theme. Use candles, pine garland greenery, and flowers to give the room a festive, lively feel. Get Creative – and Personal If you really want to wow your guests, get a little bit more personal by making place cards. A roll of brown kraft paper makes for a fun and disposable table runner. You can write the name of each guest on the paper next to their plate and encourage doodling during the meal as well! The holidays are meant to be a fun time of the year where friends and family, can kick back, relax, and genuinely enjoy each other's company. At Executive Craftsman, we adore having the opportunity to create these spaces where you can truly feel at home. For any questions or tips you may need to elevate the beauty of your home during the holiday season or remaining portion of the year, we are here!​
How to Create Your Perfect Kitchen​
When remodeling or designing a home, one of the most important rooms that you need to be happy with is the kitchen. The average American spends about 27 minutes a day in this space preparing meals. Whether you are looking at colors or what kind of cabinets would look best on your walls, making sure that yours is perfect for you is key. Our family at Executive Craftsman has seen it all and done it all when it comes to kitchens, so here are our professional tips for making sure that the kitchen of dreams looks just as good in reality. Match Your home Before you even choose a theme for your kitchen, one thing you should take into account is the already existing theme of your home. Do you have a brightly lit home with a beach house vibe or do you have a more western farm-style home? Take some time to get the theme of your home down and then use it as a basis for your kitchen remodeling. Choose a Theme One of the most important things to consider when designing your dream kitchen is to decide on a theme. Whether you want a rustic farm-themed kitchen or a sleek and modern look, you should choose a kitchen theme that you will be happy with. Don't forget, over the course of your life you will be spending a lot of time in the kitchen, which is why it is important to pick a theme that you love. Finding the Perfect Color One of the single most important things about designing your kitchen is choosing the correct color. The color of your kitchen will have an impact on everyone that spends time there, which is why the color is so important. Some of the best colors to paint a kitchen include a warm red due to the fact that it will stimulate a person appetite and a white which will brighten up the room and bring in more light. Selecting the right color can be a tricky task, so we are here to help in any way possible to make sure you come across one that will always put a smile on your face. Appliances Impact on Theme A kitchen must have appliances such as a fridge, stove, oven, and so on in order to really be a kitchen. It is also important that you keep these in mind when you are deciding to on the look of your kitchen. For example, a polished and modern steel refrigerator would be out of place in a rustic farm-style kitchen that puts emphasis on dark earthy colors and wooden cabinets. The Importance of Decor Decorations go a long way in setting the mood of a room! Maybe you would like to put up a stylish and charming poster or art piece in your kitchen, perhaps you would prefer a cute statue as well. Either way, the decor in any given room reflects you, so put some in your kitchen accordingly. Advice like this has proven time and time again to lead to the best results for those interested in elevating the look of their kitchens. Contact us today at Executive Craftsman to ensure that the work done on your kitchen is by professionals with years of experience. Be sure to check out our blogs for more tips for your home!
Take Your Fall Decorations To The Next Level​
Fall is here and that means it's time to switch up your home's decorations. Gone is the fun in the sun summer style, loaded with beach chairs, umbrellas, and bright colors. Fall means it's time to bring in a new look for the home. Prime fall is September to October, which gives you the best window to get ahead of the curve. Luckily, our team at is here with some fall decorating tips guaranteed to make your house the talk of the town. Fall Colors Every season has colors to match it. Christmas has green and red, Summer has lots of bright blues and yellows. Fall is no exception to this rule and has many colors associated with it. These dark red, orange, red brown's, forest green, and more earthy colors. Using this will really "fall up" your home. Don't be afraid to get creative with how you use them. Incorporate some dark red furniture into some rooms around your home, add some orange decor to brighten things up and dark red always look nice on the walls. Run wild and get creative with the fall colors in order to give your home the fall look you've always wanted. Choose something that stays through the holidays Fall is a lucky season since two big holidays are in it. We get Halloween and Thanksgiving within about a month of each other. While it is tempting to go wild for Halloween and then do the same for Thanksgiving ask yourself first, do you want to go through all that effort? You get all the spiders, vampires, web, and monsters out for October 31st and then you are going to replace them with turkeys and pilgrims. A simple and easy solution is to go with a decorating scheme that stays through the holidays. Keep a simple yet fall theme that looks good in October and November. This still gives you room to have loads of fun decorating for the holidays and gives you some breathing room between the two. Farm Decor is in Fall doesn't have to be just pumpkins and orange, it also is the season to get into the farm decor style. Farm decor is light in color and heavy emphasis on rustic wood furniture, all of which can easily be transitioned into a fall style. Rather than going with the traditionally light colors, you can swap them with some of the gorgeous fall colors. On top of that, you can also throw in some of the more traditional fall decorations giving it that lovely fall feel. There is no shortage of you can incorporate farm decor into your home so go crazy and get creative. Pumpkins The pumpkin is perhaps one of the most, if not the, most iconic image of fall. When you see a pumpkin you just automatically think of the fall. The pumpkin makes for a perfect decorating piece for in and outside, real or artificial, it doesn't matter. Due to it being the time for pumpkins, they will be readily available at nearly every street corner and shop you will visit. Pumpkins scream fall and look good for the holidays as well with them being a famous icon of Halloween but also looking comfortable in a picture of an absolutely delicious looking Thanksgiving dinner. A Pumpkin makes for the perfect fall centerpiece. Not only that but pumpkins can be used for a of creative and classic decorations. Send in the Leaves Fall gets its name for the falling leaves. The falling of the leaves plays an as the fallen leaves fertilize the ground and the loss of the leaves prevents freezing and us of fewer resources for the trees. It's nearly impossible to count how many leaves fall every year but there will be an endless amount of them which means that these leaves are perfect for decoration. Whether it's a huge pile or a single leaf, real or artificial, a gorgeous fall leaf gives endless possibilities for decoration. Take a few artificial leaves and neatly set them around and on various furniture in your house for a dramatic effect. Add some outdoor leaves to your arts and crafts box, they provide plenty of to cute nick-nacks to your home for the season. There are just about as many ideas you can do with the leaves as there are leaves that are gonna fall this year! Fall is here, so why not add some fall colors, pumpkins, and leaves to your home? Your home can use some nice fall decor after the summer heat and a little change to the interior is always good for the soul. Be sure to have fun and get creative with these tips, they are sure to leave you with an impressive fall set up that will make your neighbors talk. For more info on taking care of your home be sure to check out our other blogs. We are here to help with all your home needs. Call us today with your goals and let us reach them together!​
How to Protect Your Home from a Summer Storm​
The dog days of summer are here and that not only bring tons of that gorgeous weather we love but also those massive, damaging storms. While you might be rushing to seek shelter inside and save the food on the grill from nature's wrath, you are probably ignoring the damage your home may incur. What's worse is you can be left with a hefty bill which can sometimes tally up to over $5,000! To make sure your house is secured and ready to endure any storm summer can throw, at it here are some tips from our team at Executive Craftsman to protect it and your family! Receive weather alerts Nothing can protect your home from a storm like knowing it is coming. Luckily, in this day and age, there are ways to know what type of weather is coming your way before you even walk out the door in the morning! Be sure to sign up to receive weather alerts so you can take the necessary precautions to protect your home before the storm arrives. Tie it all down Tie down all loose items around your home. Whether it be an umbrella, lawn furniture, or a trampoline, nothing can ruin your day like something crashing through a window or damaging your home. Be sure to tie it all down and make sure it's secured to save yourself a world of trouble. What sounds easier to you, tying down all your outside furniture during a light rain or costly damages to your home due to an umbrella blowing through a window? Remember your gutters Don't forget to clean out your gutters, they are some of the most important aspects of your home! Properly cleaned gutters will keep your home safe in a storm, but clogged ones can lead to numerous problems such as leaks, roof damage, and fallen gutters that will leave you with a steep bill. You can never underestimate just how important cleaning those gutters can be. Storm Shutters Storm shutters are the perfect way to protect your windows. Whether they are made of steel or wood, a storm shutter properly secured will keep your windows damage free and help protect your home and your wallet. It may seem like a needless purchase or maybe a bit of a paranoid mindset but never underestimate how important the proper precautions can be to keeping your home damage free. Don't let summer storms tear through your home or bank account, use these tips to ensure a successful and damage free summer at your home! In case something does go wrong be sure to contact Executive Craftsman to take care of all your home repair needs! ​
Tips for Selecting Your Perfect Interior Paint Color​
What is your favorite color? Blue? Red? Maybe even yellow? Just because a certain color may be your favorite doesn't necessarily mean it will work inside of your home! The colors you paint the interior of your house will shape not only how you feel about where you reside, but all of your guests and family members as well. Selecting a beautiful color may seem like a tough decision that has long-term consequences, but having your home painted is anything but stressful, especially when it is completed by a crew of experts. Here are some tips help you pick the perfect color for the interior of your home from our dedicated team at Executive Craftsman! Consider Making Connected Rooms Neutral A neutral color scheme can go a long way in your home. While it would be jarring if you painted one room a dark navy and then the connected room a soft green, replacing one of those colors with a light grey or a white helps bring out the color of the connected room and doesn't draw attention. Plus, when you feature neutral colors in your home you leave open the option for furniture and other accent pieces to bring in bright pops of color or even different textures. We love the look of a neutral colored wall with white trim and furniture that features a brass or copper color! When combined, this trifecta can truly make all of those inside of your home feel comfortable and at home. Don't be afraid to be bold Sometimes being bold pays off, and that is certainly true for interior painting. If you have a specific color you love and know exactly what hue you want, go for it! Just be careful with what other colors you use for the remaining rooms. Being bold comes with the risk of clashing colors! In certain cases, bold colors like a bright green can pair well with a dark, rich brown color, especially when hints of white are added into the mix of a room. Keep the upstairs and downstairs paint separate Be sure to use two different colors and hues for the floors of your home. It'll help splash some variety in your home and give each level a distinct feel. Your downstairs should have a more neutral feel to it so that all guests and family members can enjoy the space, but not everyone always heads up the stairs, so this is your opportunity as a homeowner to take risks, go out on a limb, and get your inner interior designer on! Even if the colors you select don't look ideal, you can always make a switch and try something new. Don't be afraid to test your pallet Don't be afraid to experiment with your pallets and paint options, push the limits! It's your home so make it the way you want it! As long as you can walk through the front door and you feel comfortable, then all is well! No one will ever walk into your foyer, take a peek at the walls, and then criticize you! A home is meant to set the homeowner's heart on fire and provide them with a space to experience happiness, safety, and most importantly – love! Build a strong hue rangeDifferent hues of the same color can do wonders for your home. Just think how many shades of blue, green, and red there are and multiply that by every color. To put it simply, you have endless color options! Build a hue pallet and see what looks best. We understand that selecting your ideal color can be a tricky process at times, but we are always here to sit down with you, listen to your likes and dislikes, and formulate a plan to elevate your interior beyond what you ever thought possible! Over our many years, we have seen interiors with truly unique colors and have established a rock solid gauge on what will work for you and what will not! Keep up to date with us for home enhancement tips, recent projects, and home care tips by tuning in to our social media pages or website! ​
How to Maintain Your Deck All Summer Long​
Is there any reason not to be out on your deck in the summer? Now that the weather is warm and the sun is shining, you are going to want to be spending your time outside and with your deck just begging to be used, you'll need to know how to take care of it this summer. Here are some tips for maintaining your deck in the summer months from our team at Executive Craftsman. Replace and Pop Any Loose Nails There is nothing that can ruin a summer day on your deck as quickly as either you or someone else getting hurt by a loose nail sticking out. A nail can do a lot of damage and when it's your deck, you are in for a world of trouble. That's why replacing and popping those nails should be done often and as soon as possible! Sure, it may seem like a pain to spend time replacing a bunch of nails, but it will save you a world of pain later. Clean! Clean! Clean! One of the biggest keys to a healthy deck is to keep it clean. A good wash once or twice a week will keep it looking fresh and will wash away any unwanted growth on it. Power washing is a wise move and should be done at the start of summer but if you do it often you can do more harm than good to your deck. A simple spray over with the house will give it a nice cleaning also DO NOT use soap on your deck, it can damage the paint. Clean Out Under Your Deck Don't forget about what may lurk underneath your deck! Weeds and unwanted plant growth can begin to grow into the deck if kept unchecked and not to mention plants will attract unwanted pests. If there is one thing that is sure to ruin your deck it is ants or termites. Be sure to check below your deck regularly in order to keep away any unwanted residents. Weather Proofing is Mandatory The weather can damage your deck as much as any mold or insects can. Pounding rain, blistering heat, unbearable humidity can all take a toll on your deck. Wood can begin to rot, paint can dull and chip, metal can rust, and much more that will leave your deck less than optimal. Weatherproofing will protect your deck from all those nasty weather caused damages. This doesn't just matter in summer either, those heavy winter snows and storms of pollen in spring can also harm your precious deck. With these deck tips, you are set to have a deck that will make the whole neighborhood jealous. Be sure to use it to the fullest this summer! For any additional advice, our team is always here! ​
Keeping Up With the Craftsman
Keeping Up With the Craftsman