How to Protect Your Home from a Summer Storm​
The dog days of summer are here and that not only bring tons of that gorgeous weather we love but also those massive, damaging storms. While you might be rushing to seek shelter inside and save the food on the grill from nature's wrath, you are probably ignoring the damage your home may incur. What's worse is you can be left with a hefty bill which can sometimes tally up to over $5,000! To make sure your house is secured and ready to endure any storm summer can throw, at it here are some tips from our team at Executive Craftsman to protect it and your family! Receive weather alerts Nothing can protect your home from a storm like knowing it is coming. Luckily, in this day and age, there are ways to know what type of weather is coming your way before you even walk out the door in the morning! Be sure to sign up to receive weather alerts so you can take the necessary precautions to protect your home before the storm arrives. Tie it all down Tie down all loose items around your home. Whether it be an umbrella, lawn furniture, or a trampoline, nothing can ruin your day like something crashing through a window or damaging your home. Be sure to tie it all down and make sure it's secured to save yourself a world of trouble. What sounds easier to you, tying down all your outside furniture during a light rain or costly damages to your home due to an umbrella blowing through a window? Remember your gutters Don't forget to clean out your gutters, they are some of the most important aspects of your home! Properly cleaned gutters will keep your home safe in a storm, but clogged ones can lead to numerous problems such as leaks, roof damage, and fallen gutters that will leave you with a steep bill. You can never underestimate just how important cleaning those gutters can be. Storm Shutters Storm shutters are the perfect way to protect your windows. Whether they are made of steel or wood, a storm shutter properly secured will keep your windows damage free and help protect your home and your wallet. It may seem like a needless purchase or maybe a bit of a paranoid mindset but never underestimate how important the proper precautions can be to keeping your home damage free. Don't let summer storms tear through your home or bank account, use these tips to ensure a successful and damage free summer at your home! In case something does go wrong be sure to contact Executive Craftsman to take care of all your home repair needs! ​
Tips for Selecting Your Perfect Interior Paint Color​
What is your favorite color? Blue? Red? Maybe even yellow? Just because a certain color may be your favorite doesn't necessarily mean it will work inside of your home! The colors you paint the interior of your house will shape not only how you feel about where you reside, but all of your guests and family members as well. Selecting a beautiful color may seem like a tough decision that has long-term consequences, but having your home painted is anything but stressful, especially when it is completed by a crew of experts. Here are some tips help you pick the perfect color for the interior of your home from our dedicated team at Executive Craftsman! Consider Making Connected Rooms Neutral A neutral color scheme can go a long way in your home. While it would be jarring if you painted one room a dark navy and then the connected room a soft green, replacing one of those colors with a light grey or a white helps bring out the color of the connected room and doesn't draw attention. Plus, when you feature neutral colors in your home you leave open the option for furniture and other accent pieces to bring in bright pops of color or even different textures. We love the look of a neutral colored wall with white trim and furniture that features a brass or copper color! When combined, this trifecta can truly make all of those inside of your home feel comfortable and at home. Don't be afraid to be bold Sometimes being bold pays off, and that is certainly true for interior painting. If you have a specific color you love and know exactly what hue you want, go for it! Just be careful with what other colors you use for the remaining rooms. Being bold comes with the risk of clashing colors! In certain cases, bold colors like a bright green can pair well with a dark, rich brown color, especially when hints of white are added into the mix of a room. Keep the upstairs and downstairs paint separate Be sure to use two different colors and hues for the floors of your home. It'll help splash some variety in your home and give each level a distinct feel. Your downstairs should have a more neutral feel to it so that all guests and family members can enjoy the space, but not everyone always heads up the stairs, so this is your opportunity as a homeowner to take risks, go out on a limb, and get your inner interior designer on! Even if the colors you select don't look ideal, you can always make a switch and try something new. Don't be afraid to test your pallet Don't be afraid to experiment with your pallets and paint options, push the limits! It's your home so make it the way you want it! As long as you can walk through the front door and you feel comfortable, then all is well! No one will ever walk into your foyer, take a peek at the walls, and then criticize you! A home is meant to set the homeowner's heart on fire and provide them with a space to experience happiness, safety, and most importantly – love! Build a strong hue rangeDifferent hues of the same color can do wonders for your home. Just think how many shades of blue, green, and red there are and multiply that by every color. To put it simply, you have endless color options! Build a hue pallet and see what looks best. We understand that selecting your ideal color can be a tricky process at times, but we are always here to sit down with you, listen to your likes and dislikes, and formulate a plan to elevate your interior beyond what you ever thought possible! Over our many years, we have seen interiors with truly unique colors and have established a rock solid gauge on what will work for you and what will not! Keep up to date with us for home enhancement tips, recent projects, and home care tips by tuning in to our social media pages or website! ​
How to Maintain Your Deck All Summer Long​
Is there any reason not to be out on your deck in the summer? Now that the weather is warm and the sun is shining, you are going to want to be spending your time outside and with your deck just begging to be used, you'll need to know how to take care of it this summer. Here are some tips for maintaining your deck in the summer months from our team at Executive Craftsman. Replace and Pop Any Loose Nails There is nothing that can ruin a summer day on your deck as quickly as either you or someone else getting hurt by a loose nail sticking out. A nail can do a lot of damage and when it's your deck, you are in for a world of trouble. That's why replacing and popping those nails should be done often and as soon as possible! Sure, it may seem like a pain to spend time replacing a bunch of nails, but it will save you a world of pain later. Clean! Clean! Clean! One of the biggest keys to a healthy deck is to keep it clean. A good wash once or twice a week will keep it looking fresh and will wash away any unwanted growth on it. Power washing is a wise move and should be done at the start of summer but if you do it often you can do more harm than good to your deck. A simple spray over with the house will give it a nice cleaning also DO NOT use soap on your deck, it can damage the paint. Clean Out Under Your Deck Don't forget about what may lurk underneath your deck! Weeds and unwanted plant growth can begin to grow into the deck if kept unchecked and not to mention plants will attract unwanted pests. If there is one thing that is sure to ruin your deck it is ants or termites. Be sure to check below your deck regularly in order to keep away any unwanted residents. Weather Proofing is Mandatory The weather can damage your deck as much as any mold or insects can. Pounding rain, blistering heat, unbearable humidity can all take a toll on your deck. Wood can begin to rot, paint can dull and chip, metal can rust, and much more that will leave your deck less than optimal. Weatherproofing will protect your deck from all those nasty weather caused damages. This doesn't just matter in summer either, those heavy winter snows and storms of pollen in spring can also harm your precious deck. With these deck tips, you are set to have a deck that will make the whole neighborhood jealous. Be sure to use it to the fullest this summer! For any additional advice, our team is always here! ​
How to Get Your Home Ready For Warm Weather​
It may seem like all you need to do in order to prepare for warmer weather is buy a new bathing suit and book your summer getaway, but beyond the traditional deep cleaning, there is no better time to get ready for summer than now! To assist you in the process of getting your home up to speed with the rapidly changing season, our crew at Executive Craftsman has created a list of the most important tasks necessary to prepare your home for warm weather, and save you time and money by doing so! Inspect outdoor plumbing Now is the perfect time to check your outdoor spigots and irrigation system to make sure that it made it through the harsh winter intact. Remove all insulators from the outdoor faucets and then turn on the water. A slow trickle could mean that you have a problem with your pipes. If water is not flowing correctly, we recommend calling a trusted plumber. Clean windows and screens Spring is the perfect time to remove and clean storm windows that have spent the past few months keeping out the cold and ensuring that the warm stayed in. To really make those windowpanes sparkle, fill a spray bottle with window cleaning solution and use a squeegee to leave the windows streak free. If you are someone with sensitive skin, always wear gloves just in case to prevent irritation. While you are cleaning, examine the windows to see how they have put up with the winter. If there are signs of dry rot and water damage, re-caulk or replace the damaged weather stripping where needed. This will make a major impact when you must keep the hot air out. Don't forget about the window screens! Inspect them and repair any damage and reinstall them in your windows. Use a hose and a mild detergent to clean your screens, but don't pressure wash them. The more force, the greater the chance that something could be damaged. Window repair kits can be found at many convenient stores. Service your air conditioner To be truthful, there is nothing quite like having your air conditioner break when summer is in full swing. Because of this, now is the best time to check out your air conditioning system to make sure that it will be able to keep you nice and cool in the coming months. Change the system's filter because clogged and dirty filters can make air conditioners work harder and will actually cost you money in the long run. If everything seems to be correctly functioning, it is still a great idea to call a professional. A properly tuned up unit will extend its life cycle and will keep it running efficiently. Downspouts and gutters During a heavy summer storm, there is nothing less convenient than having clogged gutters! Winter weather can be hard on downspouts and gutters and has the potential to lead to leaks that let water in your basement or crawl space and can cause serious wood rot. Since cleaning your gutters can be a tough job, consider hiring a professional! If your house is tall then it could be a fairly dangerous task. Some tool that you will need in order to properly clean your gutters are: Sturdy ladderGloves A trowelSafety glassesA properly working hose The trowel can be used to scoop the debris out of the gutters and then once you have gotten most of it out you can spray the remaining with a hose to get those clogs out. Be sure that your downspout flows away from your home! Inspect your exterior Take a quick look at your roof and home's exterior to see if any minor problems have developed over the winter that could potentially turn into major problems. Even if your roof is too high, inspect your shingles, flashings, and chimneys using a pair of binoculars so that you can give them a proper inspection from the ground. Check for misaligned, cracked, or missing shingles. These could allow water to enter your home and cause some serious damage. Even after you have finished your roof inspection, examine the rest of your exterior for chipping paint or other damage that could have happened during the winter or early spring. Once you complete these important home maintenance activities, you will be all set to enjoy the warm weather and relax on your beach getaway. ​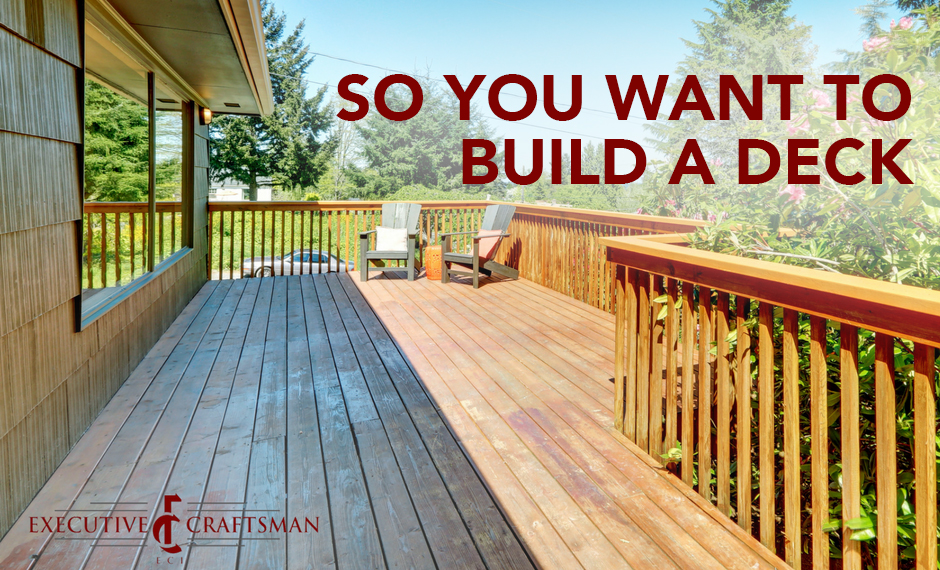 SO YOU WANT TO BUILD A DECK?
How to plan a new deck that works with your property, meets your budget, and offers a great return on your investment. On a warm, breezy summer day when relaxation is the first thing on your mind, there is nothing like hanging out on a deck. It is the ideal location for entertaining, cooking out, or simply catching some z's. Not only does a deck boost your outdoor living space, but also it can actually become an asset when you sell your home. Want some good news? Decks add living space to your home at a fraction of the cost of an enclosed living area. When adding a deck you will pay $25 to $25 per square foot for a professionally build deck rather than $100 to $250 per square foot for a typical enclosed addition. If you are someone that is determined to build your own deck, plan on spending between three to four weekends on creating a deck that is 14-foot-by-18 deck. If building a deck by yourself is a task that you would like to complete then you can either purchase a ready-made deck or use an interactive designing website. Some great websites that will assist you in this process are Lowe's Deck Designer and Deckorators. Planning the perfect deck requires a lot of careful consideration of your site, your budget, and the features that you should or shouldn't include. To simplify this process, here are some priorities that our team at Executive craftsman believes is important when planning your dream deck. Finding the perfect size and location Since your deck is going to the most popular location to entertain, finding the perfect place for it to be is important. The first step is to decide how the deck will be accessed from inside of the house. Many decks are connected from the back door of the kitchen, however that most likely will not be efficient. All this does is force more traffic through the kitchen which slows down cooking and when a big group is at your home this can just cause an awkward traffic jam that is more stressful than anything. We believe a great solution to this is to add a French door or slider that will give you access to your deck from either a dining room, living room, or family room while being still in close proximity to the kitchen for preparing food. Deck hack 1: Try to position the doorway in a location with an expansive view! This way your guests will immediately feel relaxed from the peace and serenity that your new deck offers. This next segment is a very important one! Be sure that your deck neither takes over your yard or becomes completely lost in it. Many local codes may set standards for how large your lot can be and these limitations should definitely be checked early in your planning process with either your city or county building department. Be sure that you take some time to find where you would like to put stairways off of the deck so that they provide access to the backyard without being in the way. Deck hack 2: Consider the path of the sun and the location of the trees in your backyard when putting in your deck. It is possible for sunlight to be pleasant and warm in the morning while also completely unbearable in the afternoon if your deck is not positioned right. Having a shade tree to the west of your deck will help provide shade and block out the brutal late-day sun. An ideally located deck will also preserve privacy and act as a screen when the weather is a tad windy. Consider local Let's be honest, it is possible for a deck to not be a cheap investment, which is why making up a good portion of this is important. Your deck needs to be something that those in the market will be interested in for years to come. Do not make it too wildly extreme, as this could actually become displeasing for someone that is interested in your home. We believe that your deck should be more than is what is expected in the market without being too over the top. Also, do not overlook local codes. A lot of potential buyers have inspections done on a home before they purchase it, so if the deck is not to code then they might say, "I will purchase this home, but only if you fix this deck too." Not only are codes important to preserve the values of a property, but they also promote safety. If railing balusters are spaced too far apart then they can actually become a falling hazard for animals or even small children. Many codes say that a 4-inch gap is the maximum for space between balusters. Also, a deck that is improperly attached to the house can cause a collapse. This can happen during a party for example because the weight of all of the guests is just too much for the deck to handle so the entire structure falls. Not only can this cause injury, but also it is somewhat embarrassing for the homeowner. Get a permit from your building department and always follow their requirements. Naturally, but taking out a building permit, your tax assessment will rise, but only to the actual extent that the value of your property increased. Decks are actually considered an outdoor improvement like a walkway, driveway, or upgraded landscaping. Even though it is tough to put a dollar value on improving the aesthetics of your home, looks can go a long way. Consider how the deck will meld with the beautiful architecture of your house. Railings will offer a great opportunity to add color and detail that will look gorgeous when paired with your home. The perfect deck can definitely be created if you follow these tips from our team! For further help, we will assist you through the entire building process to ensure that no matter what you are left with the deck of your dreams. ​
Four of The Trendiest Interior Paint Colors For in 2018​
Four of this year's trending colors and how to use them to enhance the elegance of your home. When it comes to interior painting, inspiration can be found anywhere, from traveling abroad to fashion to pop culture. As the world changes, so do what homeowners want their houses to look like. Many big name paint manufacturers have experts in-house that will identify which of these trends will be huge, create new palettes, and come up with aspirational names to describe these colors. To jumpstart ideas in your head of how to boost to the allure of your home by using added color, our experts at Executive Craftsman have researched what colors will be huge this year in interior painting and how you can use them to your advantage. Sherwin-Williams: Oceanside Described as: This color can best be described as a mysterious and opulent green-blue hue.Why it is trendy: Oceanside is a gorgeous color that is inspired by global interconnectedness and wanderlust. It reminds us of intriguing folklore like mermaids and going on expeditions all around the world.Where to use it: This color can be featured just about anywhere within a home. It pairs well with whites, creams, deep rich tones, or even warm metallics. Are you searching for a way to get a taste of how this color will look on your home without going too over the top? Consider trying it on a side table or an accent wall in a neutral room to see if it can stay or go.Sheen recommendation: We would recommend using it on larger flat walls with semi-gloss trim. Olympic: Black Magic Described as: This is a true black color with no undertones. On the Olympic palette, this is listed as the absolute blackest black.Why it is trendy: Black colors in a home can put off a very eerie and spooky vibe while at the same time encouraging tranquility. This color allows those that feature it in their home to pair it well with brighter colors so that they collaboratively pop.Where to use it: This color looks stellar on doors within a home, on the back panel of a bookcase, or even behind a large television. When the television is off, it seems to fade into the dark color on the wall, however, once the television comes on, the colors bounce right off of the wall to allow for a splendid viewing experience. Black Magic pairs well with warm white shades and even periwinkle accents.Sheen recommendation: Matte looks absolutely jaw-dropping. However, be sure that you use a paint that is washable for doors and other locations where fingerprints could potentially be an issue. Clark + Kensington: River Rapids Described as: This gorgeous color will now only put off a renewing vibe, but it is also extremely relaxing and soothing. This light and pleasant color will truly brighten up a space.Why it is trendy: We live in a world where it is impossible to look around and not see at least one screen. Because of this, homeowners are searching for texture and simplicity when it comes to interior colors. People are giving into feelings of nostalgia and are hunting for a color that will truly take them backWhere to use it: If you are looking to create a room of serenity, you must paint it River Rapids. It looks glorious in living rooms, family rooms, and even bedrooms. It pairs well with blue-black, natural tones, and classic shades.Sheen recommendation: For rooms that see a lot of traffic, a higher sheen such as semi-gloss or satin are effective since cleaning is a breeze. On the other hand, softer sheens such as eggshell or enamel are great. Valspar: Favorite Green Described as: Simply put, this color is intense. This invigorating green with just a touch of blue is both intriguing and refreshing.Why it is trendy: This color reminds us of happy times both at home and away adventuring. It connects those that see it to natural healing and meaningfulness.Where to use it: When entering a home, this color is sure to be the perfect greeting. It encourages visitors to take a deep and enjoyable breath of fresh air and to unwind just a tad. It can be used in areas that feature overlooks and in an entryway.Sheen recommendation: When choosing rich and vivid colors, be sure that the sheen is low to take away the color from being overwhelming or overly reflective. Choosing the perfect paint to elevate the look of your home is so important, which is why our team is here to help you. Together, we can collaborate upon which color would look amazing, what textures can be paired well with it, and how we can make sure that it will last. When times and trends change, we believe that staying up to date is important so that your home is always sure to impress. ​
Keeping Up With the Craftsman
Keeping Up With the Craftsman